Type your cut contents here.I'm putting together my bridesmaids gifts bags now, I haven't asked everyone yet but 6/8 are confirmed! I'm going to be giving them an actual gift (probably jewelry and a spa gift card) at the rehearsal dinner, I thought these would be a nice touch. Let me know if these would be something you'd like to receive. Also, these are just random pictures of wedding things that I've collected over the past year and a half.
Type your cut contents here.
I also bought them a square white sugar cookie scented candle to go into the "LOVE" buckets.
These are my bridesmaids:
Chelsey, 18,(with my other cousin Brandon) a cousin/best friend
Cassie, 13, a cousin
Kallie,14, another cousin (sorry the pic is so small! There were other people that I didn't want on lj, so i cropped them out)
Megan,20, (on the left) one of my best friends
Magen, 22, another friend
I don't have pictures of Erica (fsil) or Patty, who is my MOH. They're both gorgeous though.
this is the bout (not even going to try and spell that) idea that I like, our colors are hot pink and light pink and black.
This is what I'm looking at for the bridesmaids bouquets, but not as many roses. The bouquets are going to double as centerpieces for the reception. I figured after the pictures, what would they need them for???
My bouquet idea: the same as the bridesmaids but with some stephanotis.
Some of you may remember the disastrous cake I attempted to make a couple months ago. The general consensus here on WeddingPlans was that it was "messy". I completely agreed. But I'm not one to give up so easily! So one of my bridesmaids and I got tipsy and tried again! Unfortunately this one turned out WAY worse than the first! Check them out:
Final Product! I messed up the frosting, I think I put like three pounds of sugar in there, and decided to just screw the whole thing and put some cherries on top!
Me attempting to eat the frosting! Not good
Megan's portrayl of "This cake is so dang good I'm not going to bother with a fork!!!"
We threw the whole thing out. Disgusting. But we had a great time!
Some stuff we already have:
My wedding necklace
Just the earrings are mine
Organza bags that we're putting mini chocolate bars with this wrapper in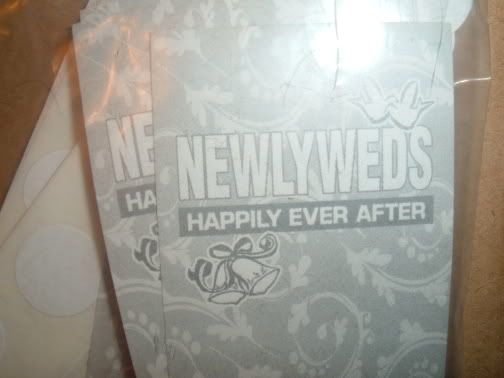 my garter
save the date magnets from Vista Print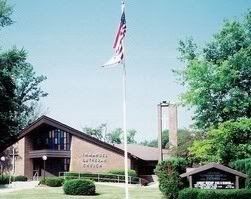 the church we're probably getting married in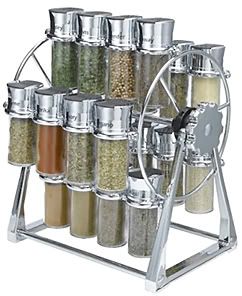 my dream registry item!!! Right now our spices are on the back of the oven and they all fall when the door shuts.
I also have a few questions: When you went to try on dresses, what did you wear? Did you wear the bra you're planning on wearing for your wedding? Did they have anything available you could borrow? How far in advance did you book your reception?
The dresses that I loved are the following so far:
Maggie Sottero- Marissa, Capri Royale, Aseel, Capri Lynette, Grace Lynette, Tuscany, and Eleganza. So if any of you have bought any of these dresses and have pictures of yourselves in them, please share!!!
I hope everyone enjoyed my first picture post! I'll be doing another after I try on dresses in a couple weeks.
I think that's it for now!