This is my first "My Stuff Post"; I don't have a lot yet, but still this is fun!

Wedding Date: November 3rd, 2007



The couple: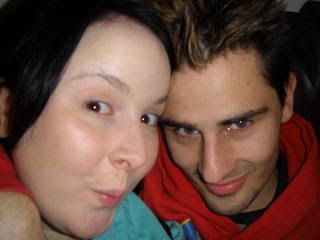 The Engagement Ring that started it all:







The Bridesmaids Dresses; only in black, and some of them will be wearing jackets on them.




(I just bought their jewelery, but nothing has been uploaded from the camera yet).

The Ceremony will be at the Galt Museum (this picture shows it set up for a dinner, but that is the view...:))





The Reception will be at the Sandman Hotel and Suites (excuse the picture quality, my camera had gotten dirty, and now the pictures I took look filthy):



(and they are getting new trees...YAY!)

THE DRESS!!!!





Centerpieces:


The Runners for the tables:




The Centerpiece:




I have still yet to gather my black river rocks (SCORE at the Dollar Store!), floating candles, votives and votive holders.


Today we officially booked our officiant, and met with her. We planned our whole ceremony! I am sure it will change a bit.

We have booked our Photographer- Here!

Everything is up in the air; this month is booking the limo, the boys get fitted for their tuxes, some more centerpiece, and we are figuring out the invitation situation. Woot!
(xposted like whoa!)